Urge Congress to Support Medicare Coverage for Custom Breast Prosthesis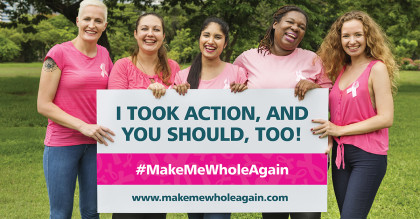 More than 260,000 women will be diagnosed with invasive breast cancer in 2018. Of those, approximately 144,000 will undergo a mastectomy. Currently, following surgery, these women will decide if they are willing to endure reconstruction surgery, choose an "off-the-shelf" prosthesis, or elect to do nothing. Congressman Rod Blum (R-IA) and Congresswoman Judy Chu (D-CA) have introduced a bill in the U.S. House to provide Medicare coverage for custom breast prostheses to women who have undergone a mastectomy.
H.R. 6980, Breast Cancer Patient Equity Act has been introduced with a Senate companion bill expected soon!
Send a message to your member of Congress asking them to support this legislation today!
First, Enter Your Zip Code